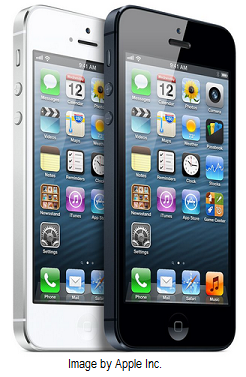 Continuing from this morning's whine about my new iPhone 5 using loads of cellular data, I've managed, I think, to confirm the source, and it's not good.
So to review, I have caught my iPhone using a whole load of cellular data – my iPhone is now showing 2.5GB in the last 3 days – only I haven't been out there streaming HD video on LTE or anything. The data is showing up on my AT&T bill as chunks of data around 19.5MB, often multiple times per minute, and at times, even when I've been at home, supposedly on WiFi.
iCloud / iTunes Match
I am currently syncing my music library via iTunes Match, a process that is annoyingly slow because the option to do an initial sync from an attached USB cable isn't there as far as I can tell. Still, it's doing it, albeit slowly. I have around 2500 songs trying to sync up, and apart from a few failures, the phone is slowly grabbing the songs and adding them to my library. I have 802.11n and a 30Mbps Internet connection, so it shouldn't be too bad.
This afternoon, i went out to the shops. On a hunch, I checked my cellular usage and it had jumped from 2.0GB to 2.4GB by the time I looked. I checked iTunes to see what was in the download queue. To my surprise, I found this: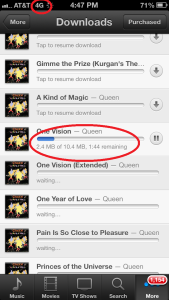 Click to zoom in. Yes, ladies and gents, what you have here is a song downloading (yes, it was progressing), despite being on 4G. When I first checked, it was actually downloading on LTE, so I tested whether this was something exclusive to LTE and set the option to disable LTE data – and sadly, it finished the song and moved right on to the next one as it shifted to 4G instead (and that's the snapshot above). Let's double-check those settings again shall we?
iTunes Settings (Use Cellular Data: OFF):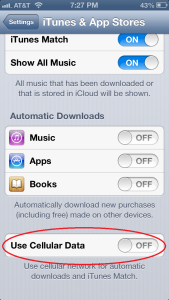 Music App Settings (Use Cellular Data: OFF):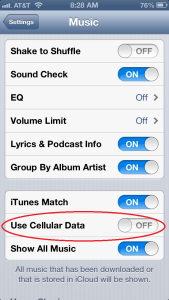 And yet, despite these settings, iOS 6 is clearly downloading iTunes Match music using cellular data! With over 20G of music to sync, I'm sure glad I caught it when I did, or I would have been hit with massive data overages! As it is, I've eaten up almost half our shared data plan in 3 days. I'll have to see if AT&T will have any leniency, but somehow I doubt it. And I can't imagine Apple compensating me either, can you?
Those 20MB Billing Entries
They've continued. On my trip out this afternoon I checked pretty early on, so I hadn't been away from my WiFi for long, and here we go again: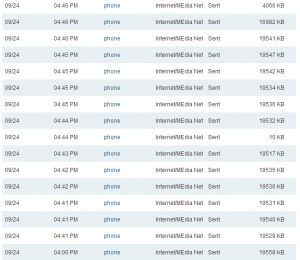 In the 5 minutes between my house and the store, when I checked my data, the phone used another ~250MB  of data. What's interesting, again, is that at 4pm I was still at home, yet here we are pushing 20MB through cellular data again. Curious, don't you think?
As to why they are 20MB chunks, this either has to be a strange AT&T billing thing, or it's a throwback to the old 20MB "over the air" download limits for music and applications that the iPhone used to impose (although it was raised to 50MB earlier this year). If you have insight on that, please advise?
Those WiFi Problems
Now rewind to the previous post again, and the fact that the morning data was when I was at home, supposedly on WiFi. Clearly, I was not on WiFi – I must be falling off the network (which seems to be a common complaint, based on the reports on the internet) and falling back to LTE. Add in a small bug where the settings for cellular data are ignored, and I'm toast.
Can't You Just Pause iTunes Match?
When I discovered that my cellular data was being eaten by the queue of downloads, I looked for a way to pause the sync. Each time you hit pause on an individual track, it simply moves on to the next one and starts downloading that one. I had a list of 2500 songs to download, with 1500 still remaining in the queue. The only way I could think to actually stop the download attempts were to go through and swipe the remaining 1500 songs and hit DELETE on each one. No way I'm doing that. In the end I simply had to disable cellular data while I was out, as it was the only way to protect my data plan until I got home. I've left cellular data disabled for now, at least until I have finished syncing my music library. It scares me that it could get so quickly out of control.
What's The Cause?
I'm not clear whether this is an iOS 6 issue, or an iPhone 5 issue, and I don't particularly care, as my old iOS6 iPhone 4 devices are not running iTunes Match, so they won't have a chance to find out. If you are able to test this out using iOS6 on an older iPhone, that would be great – please let me know how you get on. And if you can replicate this on your iPhone 5, that might be interesting to know as well.
Update (Sept 25 2012):
I did some more digging around, and found that a few people had complained about this before iOS6 / iPhone5 as well. The behavior of the "Use Cellular Data" button seems to be that when it's set to OFF, it does stop the Music app from grabbing cloud music (if for example you shuffle all tracks) over cellular. However, if you press the cloud icon to manually sync, the setting seems to be ignored. So this isn't good, and I cannot find anywhere that Apple either acknowledge it as a bug, or state that this is correct behavior.
However, even with that being the case, the sync issue with the iPhone5 is exacerbated by two things:
LTE capability means that if you're in an LTE area, your data plan can be chewed up unbelievably fast. I am, and it was.
The WiFi issues (not staying connected) that are being documented mean that even when you're at home sitting 10 feet away from your access point, your phone can drop off and use cellular data. And there's no way to know when that will happen, so you are never 'safe'.
I've thrown up a post on the Apple forums. If you experience this, please post there too so that Apple might see it.
Good luck out there.
Update at 3:25PM ET on 25 Sept, 2012
In talking to Apple Tier 2, I did some further tests and managed to narrow things down a bit. The "use cellular data" option, when set to OFF, does have some effect. In Music, any tracks that are in iCloud are grayed out and cannot be added to the download queue. This is a good thing. When I connect to my WiFi network, the iCloud/iTunes Match download cloud icon becomes available and the track is clickable again for instant(ish) play.
However, once you have clicked the cloud icon and the music is put in the queue, iPhone pays no attention after that to what your network connection is. Queued music will be downloaded over whatever connection you happen to have active. Support suggested that a download in progress would indeed be continued to completion when the network changed from WiFi to LTE. I don't agree with that as a design decision – it should interrupt the download, and perhaps warn you why it paused the download – but I can see how that might have come about. However, the phone should not start any new downloads while on cellular data. This may explain why not everybody is hit by the problem.
Incidentally, the standard Apple resolution, as you know is to do a Restore on the phone. I asked them to confirm if this would mean that I had to re-download the 20GB of music that I had just completed downloading (give or take 40 songs). Yes, it would. No, I won't be doing that, thanks 🙂
The case continues…
Update at 3.55PM on 25 Sept, 2012: And Our Survey Says
"You're S.O.L." The end result is that they confirmed that once an item is in the download queue, it will be downloaded over whatever network is available to you. The support guy put an internal suggestion in to change that behavior, but as it stands now, that's just the way it works. Or doesn't, depending on your perspective.
Chances are, if I had not had WiFi connectivity problems and hadn't by chance checked into my cellular data usage, I might not have been alerted to the oddity of both way too much data being consumed, and cellular data being used while I was at home, supposedly on WiFi. And had I not been paying attention, I might have had a much higher proportion of that 20GB of data sucked down over the LTE network, to my own financial detriment.
So: it's not a bug, it's a feature. I'm sure that will be comforting to anybody else who sees their data plan destroyed by this problem. I hope Apple chooses to fix this issue in the next release, because it's stupid, stupid, stupid.
Oh, and while you're at it, I'm a big boy, and I'd like permission to delete individual tracks and albums off my phone again, if you don't mind? I don't need an algorithm to figure out when to delete music once the phone is full; I'd like to be able to change my mind about what music I carry around with me. Another ridiculous change in iOS6 iTunes Match behavior.
</rant>
Update at 5.30PM on 26 Sept, 2012: And One More Thing…
One more possible factor that I'm evaluating in the "Uh-oh, You're Using LTE" Department is this: If an iPhone is running on battery power, then when it goes into sleep mode after about 5 minutes, it will turn off WiFi to save battery. You can test this pretty easily by trying to ping it on WiFi after the screen has been off for a while. For example, here's what happens when I ping my iPhone in sleep mode, then hit the home button to wake it up:
C:\>ping -t john-iphone5
Pinging john-iphone5 [192.168.5.82] with 32 bytes of data:
Reply from 192.168.5.95: Destination host unreachable.
Request timed out.
Request timed out.
Request timed out.
Request timed out.
Reply from 192.168.5.82: bytes=32 time=18ms TTL=64
Reply from 192.168.5.82: bytes=32 time=67ms TTL=64
Reply from 192.168.5.82: bytes=32 time=89ms TTL=64
It looks like the cellular connection stays active though for push notification purposes if nothing else. I should add that when the iPhone is connected to a power source, WiFi stays active.
What isn't clear to me though is whether iTunes Match continues to download its queue while the phone is 'sleeping'. If so, this might explain some of my home-based cellular data use. Or maybe it's just the WiFi issues people were reporting. More unknowns.