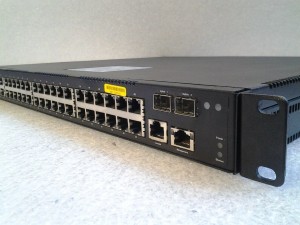 "Hey," said my friend, "are you interested in buying an Ethernet switch? 48 1Gbps copper ports and two 10Gbps fiber uplinks. Very cheap. Layer 2 only, though." A few minutes later, we were doing business out of the trunk of his automobile. And you thought that was just a cliché, right?
And so a largely unbranded Quanta LB4M switch has entered my life (and my home network). Let's spin it up and see what this hunk o' junk has to offer.
Quanta LB4M Specs
First off, the switch is sporting a pretty reasonable spec. The full specifications are in this PDF – it's the QSSC-LB400GR model. This 1U switch has a 96Gbps backplane, optional redundant PSUs (mine only has one, though) all built around the Broadcom BCM 56514 chip (two of them, I believe). It's stackable, in theory, and according to the data sheet it supports a whole bunch of IPv4 and IPv6 protocols. Cool, and phenomenal value for the price (check out eBay to see lots of similar auctions if you're interested).
It seems that the LB4M is a classic merchant silicon ODM (Original Design Manufacturer) type box, rebranded for sale (from what I can see) by HP and Dell, and possibly others. It's a little hard to tell, to be honest, but Quanta assures me that the just sell the hardware platform and it's up to the vendor to put software on it. Ah yes, the software – let's look at that.
Layer 3 Capabilities
Yeah, but no. The switch says this about itself:
(quanta) #show ver
Switch: 1

System Description............................. FASTPATH Switching
Machine Type................................... LB4G 48x1G 2x10G
Machine Model.................................. LB4M
Serial Number.................................. ABCDEFG12345
FRU Number..................................... 1
Part Number.................................... BCM56514
Maintenance Level.............................. A
Manufacturer................................... 0xbc00
Burned In MAC Address.......................... 00:00:DE:AD:BE:EF
Software Version............................... 1.0.2.17
Operating System............................... VxWorks5.5.1
Network Processing Device...................... BCM56514_A0
Additional Packages............................ FASTPATH QOS

The word "Switching" is the key here. This is definitely (as advised by my friend) a layer 2 device. That's rather odd given that the data sheet clearly said it was a Layer 2 / Layer 3 device with multiple protocol support; however this is clearly something that has to be enabled in software, and the software we have does not support it.
Software and CLI
The switch is apparently running VxWorks5.5.1 / FASTPATH, about which the documentation on the interwebs is flaky at best. Interestingly there is a manual on the web for a L2/L3/QOS Quanta LB4M which has all the lovely routing features that the spec sheet promises. However, based on web searches it seems that nobody has that elusive version of code for which the massive manual was created. In fact everything about the manual is wrong compared to what I have, down to the default console port speed setting, so heaven only knows where the routing code is! (if you know, please tell me!).
In terms of CLI, it's not often that I recommend trying the web interface on a device, but this is one of those moments. I can safely confirm that I hate the command line interface with a passion. I have been assured that users of certain HP/Dell devices will find a wincing familiarity with the whole system, though others say if you know Cisco IOS you'll feel right at home. Well, I have a passing familiarity with IOS and I did not feel at home. Your mileage, as they say, may vary.
Web Interface
Well, it's functional if not pretty. The port status picture at the top is Java based, and I had to add a security exception to allow it to run.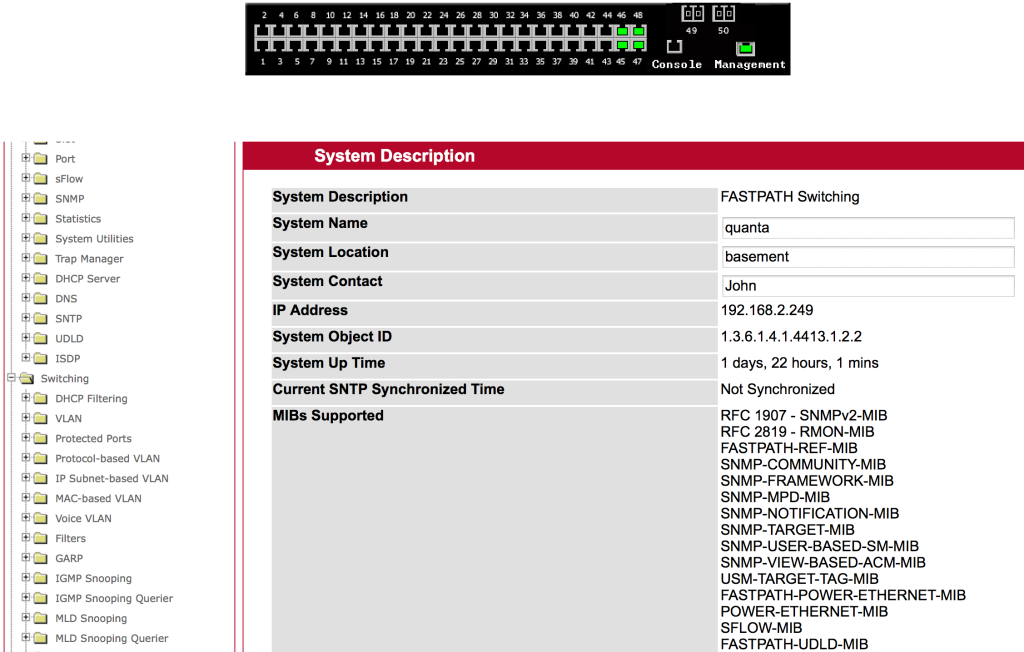 The web interface is a little bit clunky, but at least everything is there for you to find eventually.
Oddities
I've enabled LLDP on four ports. This has to be done on a per port basis, so I did so on the four ports that I have configured as a port-channel to my Juniper EX3200. Curiously, one (and sometimes two) of them don't show up on the Juniper as LLDP neighbors (though all four links are up and apparently part of the port-channel). I have no idea what's going on and I wish it worked properly, but hey, I guess it's just LLDP. I confirmed that the Juniper (hostname "noisy") is sending LLDP packets, but nothing is being received form the Quanta:
john@noisy> monitor traffic interface ge-0/0/15
Listening on ge-0/0/15, capture size 96 bytes

21:33:09.673205 Out LLDP, name noisy, length 60
    [|LLDP]
21:33:38.094759 Out LLDP, name noisy, length 60
    [|LLDP]
21:34:06.146594 Out LLDP, name noisy, length 60
    [|LLDP]

Out of interest, yesterday three of the links showed in LLDP. Today, after shutting the ae0 interface down and re-enabling it tonight, only two of the four show up! Obviously a correctly-functioning interface would look like this:
john@noisy> monitor traffic interface ge-0/0/8
Listening on ge-0/0/8, capture size 96 bytes

21:36:30.539813  In LLDP, name quanta, length 60
21:36:43.606446 Out LLDP, name noisy, length 60
    [|LLDP]
21:36:59.340468  In LLDP, name quanta, length 60
21:37:09.914005 Out LLDP, name noisy, length 60
    [|LLDP]

Help Me Out?
I'm assuming that whoever had this switch in the past was one of the big data center owners – an Amazon, Facebook, Google or similar. My suspicion is that they wrote their own OS to run on the Quanta LB4M hardware, and before selling them on they put on this rather crippled OS so it would run. If you work for any of those folks and can confirm or deny that you have or had Quanta LB4Ms in your data centers, I would simply love to hear from you just so I know if I'm right about the OS. Maybe you've even heard of this wonderful routing code for the LB4M that I'm being teased about.
Meanwhile the switch it up, it's a heck of a switch for the price, and I'm going to start testing it shortly. I'm hopeful that things like the LLDP oddity are just that – an oddity – and not an indication of more serious underlying problems.
Side Note
My switch came with two 10G SFP+ SR optics in the uplink ports (49 + 50); why did I not use those to link to the EX3200? Because my poor little EX3200 does not have the necessary additional modules to do so, and looking on ebay they are just a touch pricy. While I'd love a 20Gbps link between my switches simply for nerd value, I think I can live with a (currently) 4Gbps port-channel for the moment.
If you've used one of these switches, I'd welcome your thoughts and experiences.
30 Blogs in 30 Days
This post is part of my participation in Etherealmind's 30 Blogs in 30 Days challenge.