Pica8, early pioneer of disaggregated networking and SDN, today announced a new version of their switch operating system, PicOS v2.7.1. Normally I wouldn't note a networking OS update, but probably the biggest single update for this release is the new support for 100GigabitEthernet switches, with support for both Broadcom and Cavium / XPliant ASICs.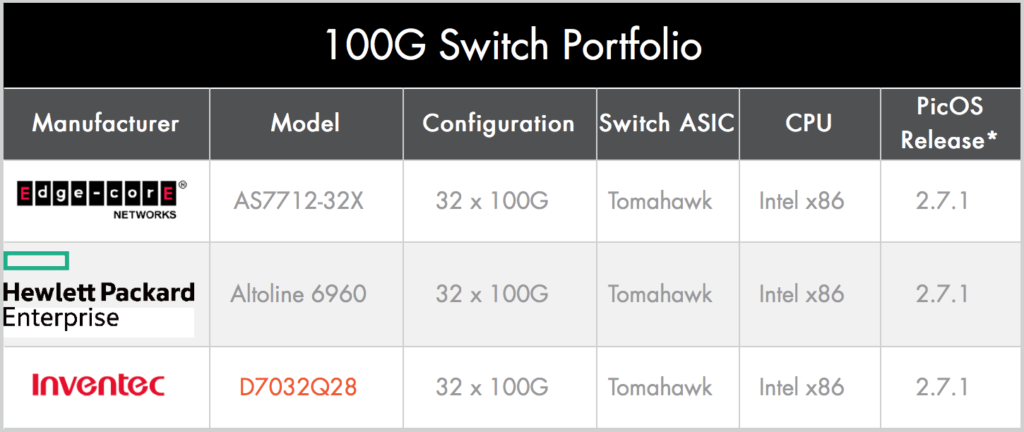 Currently the Hardware Compatibility List for 100G only features Broadcom-based switches but that will undoubtedly change as relative newcomer Cavium / XPliant continues to challenge Broadcom for speed, features and flexibility. I'm also curious to know whether in the future we'll see hardware on that list using the Barefoot Tofino™ ASIC as well.
In addition to expanding the supported hardware offerings from HP Enterprise, the HCL now also features the first Dell platform to be certified. Dell and HPE are positioning themselves quite effectively as the branded whitebox solution of choice and their devices are supported by a number of software vendors now.
But why do we care about 100G Ethernet, PicOS and more advanced ASICs?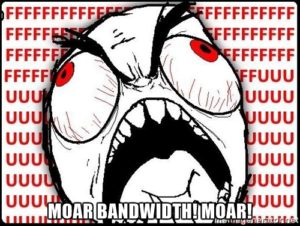 That's right; because we always want more than we currently have. And, I suppose, because we keep on scaling our networks with more, faster servers. Sure, we'll need a faster core (or spine), but the switches need the ability to store the flows going through them, and on that note Pica8 points out that the edge switches take the largest loads in that respect. The new AdvanceFlow feature in PicOS 2.7.1 takes aim at this issue, and Pica8 claims some pretty huge flow counts based on the underlying hardware:

It's interesting to see that the Cavium / XPliant hardware stomps all over the Tomahawk ASIC in this respect, so if you want a scalable edge switch in terms of flows, I know where I'd be looking. But here's the rub: based on the current HCL there are no Cavium / XPliant-based switches to choose from, and the Tomahawk-based switches all offer 32 x 100G ports, which is really in conflict with the concept of an edge switch. Expect that to change over time as both the Cavium / XPliant CN880xx series (which desperately needs a catchy ASIC name as well as a reduction of the company name to a single word) and the Broadcom Tomahawk support up to 128 25 GbE or 10GbE ports, as well as having support for 40/50 GbE standard. The upshot of this is that in the future we will likely see some very dense 10/25GbE edge switches with 100GbE uplinks. For example, how about 96 x 10/25Gbps ports plus 8 x 100Gbps uplinks?
As servers move towards 25GbE (which seems inevitable given the lower price compared to 40GbE) this port flexibility may turn out to be very helpful. It's worth noting that both ASICs have the ability to carve up each of the 32 potential 100GbE ports into 4 x 25GbE ports or 4 x 10GbE ports, making the use of 10GbE somewhat wasteful in some ways, but if the ports are flexible between 10/25Gbps speeds it will make for a very simple upgrade path to the new, higher speed connections, supporting 10Gbps today and 25Gbps as devices support it.
The point of this is that we're going to see devices with a lot of edge ports in a single chassis, and the flow capacity needs to be able to scale alongside the bandwidth. Pica8 believes that it has nailed this issue down, and based on the numbers above, it looks like the Cavium / XPliant ASICs could make for an incredibly powerful edge device. For today, this is most likely the kind of thing that only service providers care about, but down the line it's inevitable that enterprises will eventually want to see the same.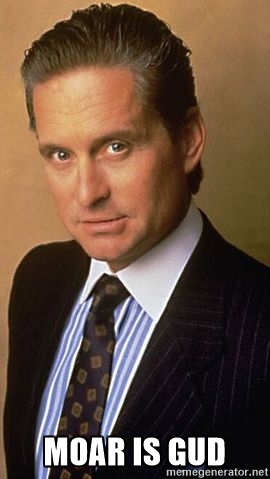 You said it, Gordon. You said it.