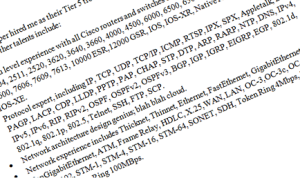 Have you ever seen – or perhaps even submitted – a resume (or "CV" for some European friends) where certain parts of it were only there either to ensure that you sorted higher in the computer rankings at an agency (more buzzwords), or in some cases were deliberately misleading?
I'd like to share a few of my favorites from the past, and I'd love to hear your favorite resume puffs as well!
I've had this post sitting in draft for a while, and was only reminded of it when Tom Hollingsworth published his blog post "Do They Give Out Numbers for the CCIE Written?". Tom talks about people using "CCIE Written" on their resumé or LinkedIn profile as if it were a certification, rather than – as it actually is – a pre-qualification for the certification exam. As Tom points out, it's not that the CCIE written is not an accomplishment in itself, but the way some people use it to market their skills, you do wonder whether they are trying to pull a fast one.
Tom's commentary acts as a rather nice introduction to this post, which looks at a few instances in resumés where I am pretty positive the idea was to hope you wouldn't look closely enough to spot the misdirection. Word stuffing is also a common attribute, although I have a little bit more sympathy for that, as it really is a game to get your resumé on the right desk in the first place. Amusingly though, the first few puffs I mention also revolve around the CCIE, so perhaps this really is the most maligned certification out there in resumé terms!
CCIE™
(pending)
This is one of my all time favorite misdirects. Note that it doesn't tell you whether they have even taken the written exam – it's just a certification in progress. The "(pending)" is of course in much smaller writing so that it doesn't stand out when you initially read the document. By the way, my resumé has been updated now to say "CCA (pending)".
CCIE™ (number not yet assigned)
Yes, really – this genuinely came from a resumé that was sent to me. Of course, you know why the number is not yet assigned? That's right – because he hadn't taken (or passed) the lab exam yet…
CCIE™
(written)
Ayup. Make it small enough and nobody will notice that it was just the written exam, not the lab exam.
[CCIE Logo] (written)
Just like the image Tom mocked up in his blog post, I've actually seen this at the top of a resumé – the official CCIE logo with the word "written" added in small text underneath it.
CCIE™ (attempted)
At least this person was honest enough to leave the "attempted" in the same font size. Unfortunately it turns out it was actually the written exam that they had attempted (and failed).
Experience with [many] Platforms:
I had one resumé where the candidate claimed to have extensive hands on experience configuring with a long list of Cisco hardware platforms. Nothing wrong with that in theory, so I talked to him and asked for more information about it. It turns out that his role was to rack a device, put on a base config (enough to get a WAN port working), then hand off to an installation team who would remotely connect and put on the actual configurations. So he was telling the truth – he had indeed physically handled all these different devices, and had configured all of them (enough to turn up a WAN interface). Sadly, that was as far as it went. When I asked about the full configurations that  went on the device, he had never actually seen them. I actually felt a little sorry for him at that point, just because it's hard to grow from where you are without being able to see the goal you want to attain.
What are your favorites?
This is a small and brief sample of what I've seen, and I know that you must have seen resumé claims that are as good or better! Please do share some of the great ones in the comments – I'd love to get a little library of resumé puffs going here.