As a follow on from my post on Cisco's acquisition of Tail-f and Cisco's commitment to open standards, by chance I happened to need to grab the XML schema for a Nexus 5020 so I could figure out a few commands I'd like to send to a device using NETCONF.
The XML in this case acts as a kind of public API for the Nexus, and it's just the kind of thing that we're looking for in today's (and tomorrow's) automated network.
Additional Entitlement Required
Firstly, I don't like that I have to login to CCO to download an XML schema. I have a general distaste for companies hiding documentation beyond an account login when in my opinion that documentation should be public. Still, at least in theory a CCO account is free and I do have one, so I logged in.
Apparently though the XML Schema is so freaking top secret that my account rights are insufficient: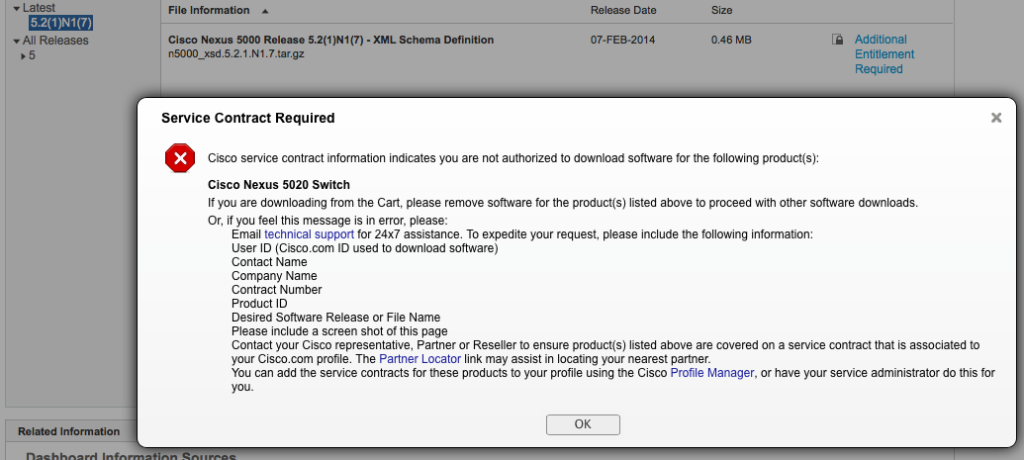 To be fair, the account I'm using has little beyond my CCIE associated with it (yet more demonstration that the CCIE certification gets you no special treatment on CCO), but I did not expect to need a paid service contract just to see an XML schema. I'm relatively new to this whole NETCONF game so maybe there's a good reason to keep the XML schema locked down behind a paywall; if you can educate me, I'm happy to learn. Anybody?