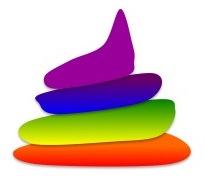 In about a week, as I am cleaning unicorn-poop from my shoes, I suspect I'll look back and say "what on earth just happened?"
Yesterday, Juniper launched their Metafabric architecture, which aims to bring SDN and fabric benefits to all sizes of deployment (a recognition perhaps that QFabric was aimed high and won't get them engaged lower down the chain).
On Monday, Arista is launching "The Next Era of Software Defined Cloud Networking", a live webcast and technology demonstration. SDCN? I will have to update my bingo card! Still, Arista of course has carved itself a good niche, not least because its price for 40GigE ports is extremely competitive. I believe you can still sign up for this event if you are interested.
And then next Wednesday, Cisco is launching the results of its Insieme spin-in, exact nature of which is not known, but rumors suggest that the big play here is Application Centric Infrastructure (ACI) which could use an Insieme-created ASIC to provide hardware support to Software Defined Networks. Clever play, Cisco, clever play. Rumor also has it that Insieme created a 40G transceiver that only has a 30% price increase over 10G (versus the current 300-400%); that could provide a very serious challenge to Arista's keen pricing in this area.
Three big players, all with SDN-related launches, all within one week. I attended Juniper's launch yesterday, I'm scheduled for the Arista launch on Monday, then I'll be in New York on Wednesday for the Cisco Insieme launch. I suspect that by Thursday my brain will be one great Software Defined Mush. I may be posting more pictures at that point, and referencing Unicorn Defined Networking (UDN). I guess we'll see.
Either way, this week – above any other of late – really reinforces to me what an amazing time this is to be involved in the networking arena. We are seeing a sea change in how networks operate, and I can barely even imagine what my job will be like in 5 years' time. To stay with the train related comments I made when I summed up Networking Field Day 5 earlier this year, ALL CHANGE!