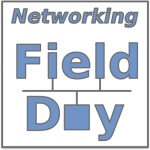 Just like the title says… you can watch along as the sponsors present at Networking Field Day 7 (NFD7)!
Video feed, schedule, and other links are below.
NFD7 Live Video Stream
TweetChat
We'll be tweeting copiously using the hashtag #NFD7. Keep forgetting to add the tag when you want to get our attention or reply to a thread? Try TweetChat on the web.
If you Sign In to TweetChat using Twitter auth, you can follow along in a TweetChat Room where anything you type is automatically tagged with #NFD7, saving you the trouble of doing that (and it automatically calculates the space to reserve for the tag). The posts you see in the chat room are only those tagged #NFD7. Join us in the NFD7 Tweet Chat Room.
Wednesday's Schedule
All times are in PST, i.e. GMT-9. Here's what we're up to:
Please join us on the live stream based on the schedule above!