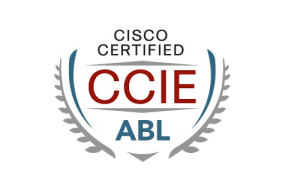 Thanks to my contacts in Cisco PR I'm really excited to be able to share the news that Cisco is introducing two new CCIE Logos for 2015, under the title of "CCIE ABL". If you're wondering what "ABL" is, it's not another specialization track, but rather it signifies progress towards the ultimate goal of a CCIE number.
Phillip A. Prull is the Senior VP with the responsibility to oversee the valuable CCIE® brand for Cisco, and he explained to me why Cisco felt that they needed an additional logo:
"One of the things we recognized was that many engineers were working for many months – even years – towards passing our rigorous CCIE® lab exam, but until they finally achieved that success, many of them told us that they felt unable to demonstrate to potential employers that they had made progress towards that goal. In response, we have created a new logo – the Cisco CCIE® ABL™.

Beginning in April 2015, any candidate who has passed a CCIE qualification exam (aka the "written") will be able to download the new CCIE® ABL™ logo from our Certification Tracking System, and use it on their resumés and business cards, subject to the same guidelines as the existing CCIE® logos.

We hope that the new CCIE® "All But Lab" logo will provide some much-needed credibility for these candidates, and will allow them to feel included once more as part of our Cisco certification family."
In conversation, Phil explained to me that "All But Lab" derives from the term "ABD" or "All But Dissertation", a phrase commonly used in academia by PhD students who have done some work on their program of study, but have not yet finished and have thus not been awarded their doctorate.
A bonus for the most dedicated and tenacious candidates is the creation of a second new logo, the 10 Year CCIE® ABL™ logo: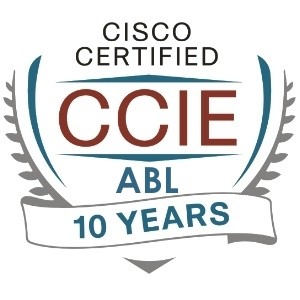 I suspect that these logos will be welcomed particularly warmly by the many candidates who have been in the industry for a number of years, as Cisco's Usage Guidelines allow a candidate who has passed any CCIE® qualification exam at any point in the past, to use these new logos and, of course, those who passed their qualification exam more than 10 years ago will be entitled to the prestigious 10 Year CCIE® ABL™ logo, which is an impressive benefit. As long as your prior qualification exam grade is logged in the Certification Tracking System, you should be granted entitlement to download the logo from today onwards.
My 10 Bits
I have to say, I think Cisco has knocked it out of the park with this one. I can already think of one candidate who will grab the "10 Year CCIE® ABL™" logo with both hands and know he has really achieved something great even though he has failed the actual lab exam repeatedly; the logo will enable him to demonstrate his achievements proudly. For many others this logo might be the key to the door of a great career, as the new logo will make their resumé stand out from the crowd and really impress potential employers with how strong their skills must be.
I have to say, if I didn't have the "real thing" I'd be in the Certification Tracking System right now, downloading the logo to put on my website and business cards. Way to go, Cisco.
Disclaimer
I was provided with information for this article by Cisco's PR department and provided access to Mr Prull in order to write this post; however, Cisco have had no direct input to or control over the content of this post.
Also, since it's almost midday Pacific Time, you should also know that this is an April Fool's post. Whether this makes me the fool or you the fool I have never quite figured out, but either way I hope that you enjoyed a little humor on my part and weren't offended by it.