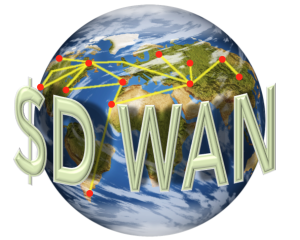 Software Defined Wide Area Networking (SD WAN) –sometimes known as SD-WAN and occasionally as Hybrid WAN– is evidently still the flavor of the month in Silicon Valley. Much as it seemed that anything with the word "Cloud" in it a few years back would have money thrown at it indiscriminately by investors, the current favored (funded) feature surely has to be SD WAN. As there doesn't seem to be one unifying definition of what constitutes "SD WAN" any more than there's a precise definition of Software Defined Networking, I'm going to define it in the way that I believe best encompasses the intent behind the current flock of solutions.
SDN is a Solution Looking for a Problem
I've said before that SDN is a clever idea and eventually will change the way we do networking. However, many are hesitant to adopt SDN because it's not always immediately obvious what the benefits are to the typical non-hyperscale datacenter other than having to do a lot of retraining. In other words SDN can potentially solve many problems, but it will most likely be necessary to find a 'killer app' that will encourage wider adoption, even in it's only applicable to a limited portion of the corporate network. SD WAN may just be that application because it can solve some real problems in Wide Area Networks experienced by almost every network administrator. For example:
Expensive WAN links;
Packet loss on dedicated WAN links (yes, really);
Unpredictably varying jitter and loss on Internet-based VPNs;
Packet checksum errors;
Inefficient use of primary / backup links;
Quality of Service concerns;
Complexity, resource and staging requirements for branch site network deployments;
Many devices to manage in a large hub/spoke type of environment.
What if a solution came along that could, say:
Compress WAN data to improve link efficiency and extend life of existing circuits;
Provide network caching for remote branches;
Detect packet loss and take preemptive actions to minimize impact, e.g.

Send duplicate packets so that hopefully one of them arrives intact;
Insert additional parity checks to correct for missing or corrupted packets;
Move traffic dynamically to a link with better performance;

Automatically manage QoS and balance traffic over multiple WAN links based on the application need;
Load balance traffic over two or more WAN links;
Zero Touch Deployment / Zero Touch Provisioning with "Ship Direct to Site" type WAN router deployment options;
Single point of management for all WAN routers.
Does any of that sound good to you? This is the promise* of SD WAN.
(*) The huge disclaimer here is that not every solution is going to deliver on every one of those features, and each will deliver the feature in their own way and to their own level, but nonetheless there's a consistent theme running through all of the solutions I've seen.
What Is SD WAN?
Here's my own generic definition of SD WAN:
SD WAN is a solution that uses real time WAN link performance monitoring and data packet inspection to autonomously manage the distribution of network traffic across multiple, likely heterogenous, WAN links with the aim of improving and optimizing WAN performance in alignment with the business requirements.
Despite appearances, I promise that wasn't created by a committee, though I suspect I could have a glorious future writing corporate mission statements if this networking thing doesn't work out.
The thing is, that's about as close as I can get right now to saying what SD WAN currently is. The deployments I've seen are typically focusing on a hub/spoke architecture, but even then there are notable exceptions in approach from different vendors. Some vendors offer compression and caching, some don't. Some try to proactively fight packet loss and corruption, and some don't. Some dig deep into the packet up to Layer 7 if needed (rather than relying purely on IP addressing and protocols for application identification and classification), and some don't.
Comparing Solutions
At the last three Tech Field Day events I've attended, namely Networking Field Day 10 (NFD10), Networking Field Day 9 (NFD9) and Tech Field Day Extra at ONUG Spring 2015, SD WAN has been a constantly recurring theme. NFD10's presentations from Nuage Networks, Riverbed and Cisco definitely provided an intriguing contrast to previous presentations from the likes of Silver Peak, VeloCloud and CloudGenix.
Having defined what SD WAN is, or at least might be, in the upcoming posts I'll be looking at a few of the vendor solutions I mentioned here in order to understand what they offer, and how they differ from one another.