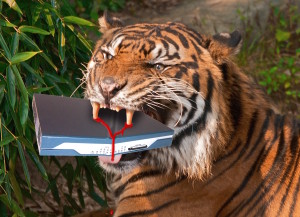 "The future of the WAN is NOT . . . a router."
These bold words were spoken by Riverbed's Josh Dobies in a presentation to the delegates at Networking Field Day 10 this August, as a lead in to the first public announcement of "Project Tiger."
Anatomy of a Tiger
Riverbed explained that the SteelHead appliances perform WAN optimization in sites with highly contended bandwidth. The SteelFusion appliances offer both "hyperconverged infrastructure" and WAN optimization. For sites that have plenty of bandwidth, however, there's no Riverbed product you can put there and that–for Riverbed at least–is a problem. Riverbed's proposed solution? Ironically, it's an appliance that can act as a WAN router, but with some rather unusual features.
Key Technical Takeaways
The headline features of Project Tiger as I see it, are:
New SteelOS™ modular operating system (replacing RiOS)
Containerization technology, used for the SteelOS modules
Service-Chaining capability
Riverbed SD-WAN features
Zero Touch Provisioning (ZTP), with policy and configuration managed centrally in SteelCentral™
BGP and OSPF to exchange routes with adjacent MPLS CE routers, for example.
Surprisingly absent from that list, however, is WAN Optimization. Despite being Riverbed's core competency, this is not a feature of the Project Tiger appliance. Because the main focus is on moving packets through the appliance, Riverbed claims that this x86-based platform has high throughput.

Roar Talent
I was a bit underwhelmed by Project Tiger as a WAN router. After all, ZTP and centralized management are now mandatory checkboxes for any SD WAN solution and BGP and OSPF are commonplace. However, two of the concepts changed my mind: : containerization and service-chaining. These features have the potential to transform Riverbed's entire product line.
Riverbed says that they are planning to allow third parties to develop containerized services that can run within the Project Tiger appliance, and that they have developed an initial proof of concept with Zscaler. Embedding service-chaining in the underlying OS is a very smart move because containerized services can be pulled in and out of service at will, within a single appliance. All clever stuff with the potential to create an extremely capable edge router, but there's still no WAN optimization available. At least, not yet…
The Future Product Family
I do not believe that Riverbed would develop a shiny new modularized, containerized OS, then only use it in low end branch office appliances; that just doesn't make financial sense. In my opinion, it's far more likely that SteelOS™ will become the basis for the whole product family going forward. Riverbed's impressive WAN optimization is already available in a virtual format by way of Steelhead SaaS, so the logical next steps seem clear:
containerize Riverbed's WAN optimization capabilities for use in SteelOS™
develop a "larger" Tiger appliance with SSD storage, faster processor(s) and more RAM;
call it "Project Leopard" and sell it in place of the current SteelHeads.
Next, "Project Snow Leopard" can add yet more storage, RAM and CPU cores, containerize the features of SteelFusion and replace that too. This would give Riverbed one OS across all platforms and offer customers the option to deploy the same containerized applications (whether Riverbed or third party) throughout an enterprise's entire network.
It isn't clear yet how the third-party containers will be managed, but if the vendors maintain the concept of centralized policy with distributed processing, it might well be workable. Picture the scenario:
Drop ship a Project Leopard appliance to site;
ZTP brings it online in SteelCentral, where a "Medium Branch" template is applied;
Template deploys firewall, IPS and WAN Optimization containers to the appliance and triggers policy push;
Relax.
This one Riverbed appliance might just replace a whole host of network devices in branch sites while still giving the benefits of a "best of breed" multi-vendor environment if–and this is a big "if"–the top vendors are willing to put their capabilities in a container. If it turns out that the available containers are all sub par, it will seriously reduce the potential for a device like this.
Ready to Buy?
Hold on to your cash for a moment; Project Tiger will get a formal marketing name and a product SKU some time in 2016, and initially at least, the form factor being sold will not be offering WAN optimization. Nonetheless, Riverbed is offering an intriguing product that they claim will simplify management while extending SD WAN path selection and network visibility to places Riverbed could never go before.
Disclosures
I attended presentations by Riverbed as an invited delegate at Networking Field Day 10. Vendors pay money to present to delegates, and in turn that money funds my transport, accommodation and comestibles while I am there. That said, I don't get paid anything to be there, and I'm under no obligation to write so much as a sausage about any of the presenters, let alone write anything nice about them. So if I do so, you can rest assured that I'm saying what I want to say, and I'm writing it because I want to, not because I have to.
You can read more here if you would like.