How should somebody new to coding get started learning a language, writing code, and maybe even automating something? Where should they begin?
That's the question I asked on the Solarwinds Thwack Geek Speak blog. In my post I look at what programming really is, and whether it's going to be something that comes naturally, or will require a very conscious effort. Please do take a trip to Thwack and check out my post, "So you want to code? It's only logical!".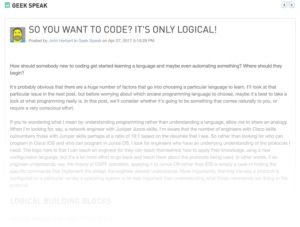 Please see my Disclosures page for more information about my role as a Solarwinds Ambassador.