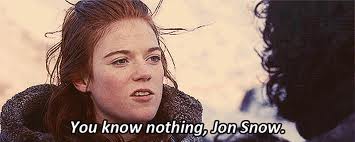 In my last post I put on my finest slacks, put in my teeth, and questioned whether the "youth of today" understand a dang thing about networking in any kind of detail below the concept of IP.
Apart form the obvious fact that I like to whine about young whippersnappers, why, you may wonder, did I let rip on that particular topic?
Before I dig into that, I will explain that I have split this post and will publish a few pieces on different days, mainly so that it isn't a wall of text (at least, no more than usual). So what's the first reason I raised this topic?
1. Because It Needs to Be Said
Yeah, it really does. There does seem to be a trend (and there are always exceptions) towards newer engineers not understanding the underlying technologies behind routing and switching. That said, no one of us is immune to this problem. The wonderful Lisa Caywood (@RealLisaC) voiced a thought I'd also had: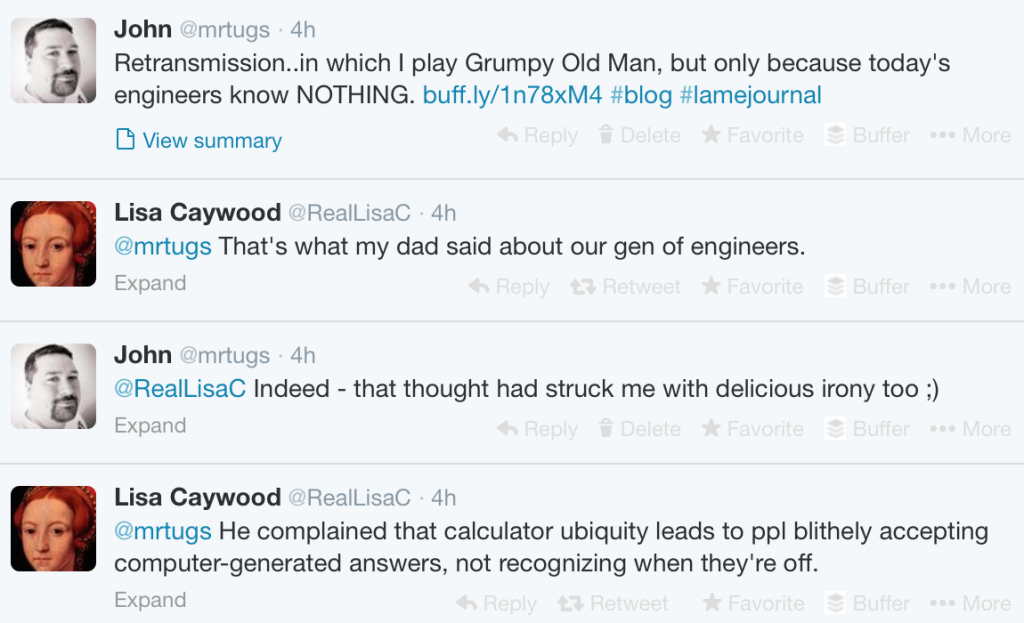 Her father is absolutely right. I couldn't put an Ethernet signal on a scope and figure out what's going wrong with it, but the last generation of network engineers probably had to although Ethernet was running a little slower not so long ago! I have not had to worry about the algorithms behind CSMA/CD for years because thank goodness everywhere runs switches now rather than hubs/repeaters. Does this make me a worse network engineer? I'll let you argue that amongst yourself for a moment (and try not to make it personal please!), but from my perspective I believe I do fine, so what does it matter if I can't grab an oscilloscope and diagnose an Ethernet issue? It's not relevant any more, and the advances in technology also mean I carry around fewer 10base2 terminators in my bag. Know what I mean? (Younger readers may want to visit Wikipedia's 10base2 page if you don't know what I'm on about).
So perhaps if I believe that scoping Ethernet is irrelevant to my job today, I have to accept that not knowing ARP is irrelevant to the next generation of engineers. But dangit, it seems wrong somehow. Not knowing SPX/IPX, DECNet or Appletalk? No problem! They're irrelevant because almost nobody uses them any more, and the same applies to Thinnet and the like. But with IP being the ubiquitous protocol in use globally, it does kind of irk me that somebody might not wonder how things work. It is reasonable to expect somebody to understand how traceroute works, for example? And understanding the difference between a CAM table and an ARP table is not frivolous, it's operationally critical at the moment. But will it be in 5 years? Food for thought.
Photography
If I might make an analogy with photography, "my" generation of photographers may have started out with film, but rapidly adopted digital photography and take it for granted now. The young'uns now most likely don't know the smell of developer and have never used any kind of emulsion based film or photosensitive paper, assuming they even know that these things exist. Does their lack of ability to process film make them worse photographers? Perhaps not, but they would undoubtedly approach photography from a different angle (no pun intended).
I read an article recently which I'm failing to locate so I can reference it, but the gist of it was that the photography magazine brought together a bunch of professional photographers from this generation and the previous generation, and let them all go and take digital photographs together. The commentary noted that while all the photographers got great results, in each location or scene that was being shot not only did the older photographers capture fewer images, but the last photograph that was taken was typically the image they chose to submit. In other words, they knew when they had nailed the shot, and walked away from it. The younger photographers kept on snapping away. It's just how they were brought up; the medium format-loving older photographers knew that film and processing were expensive, so they were trained to take fewer, better, pictures; and they carried that right on into their digital photography.
To Be Continued
Short(-ish) and sweet. More tomorrow!