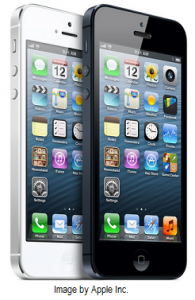 I got an iPhone 5 on launch day, and checking in with my AT&T billing info this morning, I've seen some curious stuff going on. In particular I'm seeing high cellular data usage and some weird cellular data logs.
iPhone 5 Cellular Usage
I was first alerted to a concern when I checked my cellular data usage yesterday and it claimed 1.8GB received. That's nuts – I haven't been out of the house that much, and the one thing that could have generated that level of data (syncing my music from iCloud) is specifically configured not to do so over wireless: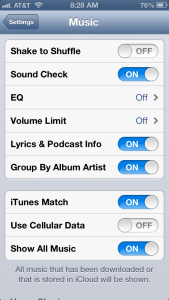 You can see that the "Use Cellular Data" option is set to OFF. This morning, I checked again what my iPhone 5 believed my cellular data usage was, and it had gone up again: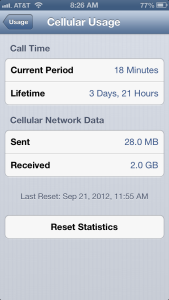 So overnight I'd apparently added 200MB of cellular data while in my house (which has 3 APs providing pretty good WiFi coverage)?
I figured maybe there is a bug in how the iPhone 5 tracks data? So I checked what AT&T thought I had used. Thankfully they aren't claiming I've used that much – yet, at least:

So for my shared 6GB data plan, supposedly I have used 863.57MB in the last 48 hours. I find that quite hard to believe given that my typical data usage on my iPhone 4 would usually not reach that over the entire month, unless I was traveling. Still not quite the same as the 2.0GB that the iPhone believes was used, although it's possible that the other 1GB was used on Friday 21st, as I changed plans on Saturday 22nd. Concerning, regardless.
Detailed Usage
Curious to see what was eating my data, I looked at the detailed billing information. The very top of the list immediately aroused my suspicion because all the data chunks being billed were almost (but not quite) identical in size: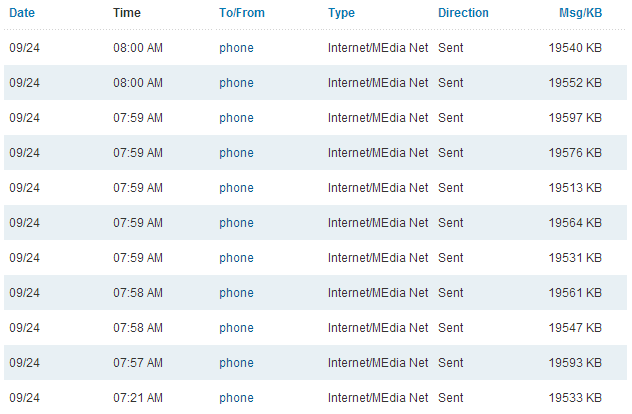 Since I only have "sent" data, I'm assuming that this really includes 'received' data. It is of note that during this entirely time period this morning, I was in my house, and had been using wireless quite happily before 7.21AM. But what on earth is all this cellular data I'm supposedly sending, multiple times per minute, all while sitting in my house with WiFi available? Coincidentally, that's about 200MB of data, by the way – the difference between my phone's claim of 1.8GB last night and 2.0GB usage this morning.
I should also note that when I picked up my phone shortly after 8AM, the phone said "LTE" in the top bar – but by the time I had swiped to unlock, it had shifted back to showing the WiFi indicator again. Paranoia aside, I don't know whether that's important.
What Is It?
I don't know yet. Maybe you know and can tell me? I know that there were previous reports of the iPhones sending diagnostic data back to Apple, but this seems a little keen, especially as I had turned off the "send diagnostic data to Apple" option in settings: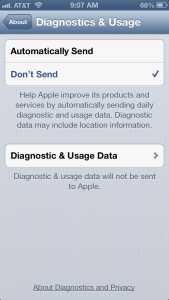 What I do know is that the amount of data being sent over cellular is adding up really quickly. Running through my detailed billing looking for these 19.5MB data blocks, they appeared to have started yesterday, when 33 of them show up (that's 645MB of cellular data). To be fair, I was out and about yesterday when the 20MB chunks of data show on my bill, which at least eliminates the WiFi concern, but I was shopping – so my active phone use was minimal. Add in the 200MB this morning, and I'm up to 845MB of data that I can't explain.
Why 19.5MB?
AT&T seems to have no problem billing me for the exact amount of data I use – other entries on my bill are far more normal. 20MB is not a cap – I have entries exceeding that. I had wondered whether for smaller data usage, AT&T rounds it up into blocks of 20MB to keep the bill smaller? I don't know yet.
What I do know is that something is wrong. I also know that if I can use 800MB in 2 days, I can blow my entire 6GB shared data plan very quickly unless we find a solution. I'll be calling AT&T later today, but I have a sneaking suspicion they'll shrug their shoulders. I'll update here if I find out any more.
Meanwhile, do you folks have any ideas or experience with this problem?