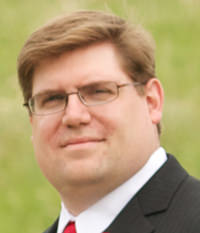 Ok, Plankers, this means (sci-fi) war. Darth Vader rather than Q? Adama rather than the 10th Doctor? Wintermute over HAL? What is wrong with you?
Ok, I can see I've got ahead of myself. Let me explain…
<sound of tape rewinding>
<sound of younger people saying "uh, what exactly does that sound like?">
Solarwinds
Ok, so here's the deal. Solarwinds was a presenter at Networking Field Day 5, and at the end of the presentation they announced their Sci-Fi Bracket Battle by handing out a laminated card and a white board marker. The card was a version of this, but with a white background (for obvious reasons):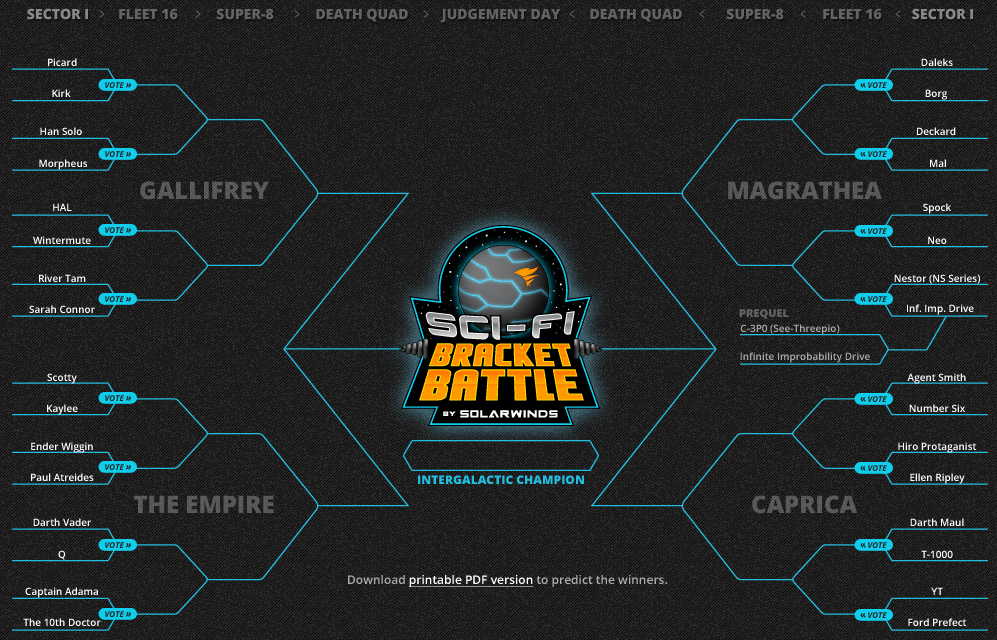 If it's a bit small, click on it to look in more detail (or go to the Solarwindows Thwack site). Solarwinds have decided to have their own March Madness bracket, but using Sci-Fi characters. All you need to do is to create an account on the Thwack Community site and you can vote on each of the battles. Last week was the test battle – the 'prequel' week, where Star Wars' C-3PO was pitted against the Infinite Improbability Drive from Hitchhikers' Guide to the Galaxy. Sadly for our favorite gold robot, he was trounced by an engine based around a cup of tea.
And so we enter round 1 of the bracket, and Solarwinds would like your vote. I will say for transparency that Solarwinds did reach out and ask me if I'd like mention the bracket, but actually I was going to anyway as part of a post on Solarwinds. However, when I read this post by Bob Plankers where he expounds on a few of his own choices, I realized that I needed to get in gear and set the record straight immediately, because he couldn't be more wrong on some of his decisions. And that, of course, is the point – these Sci-Fi match ups are going to cause a lot of disagreement. But I'm right. Ok, Bob? Let's get to it.
Darth Vader vs Q
Yes, Darth Vader is cool, but there's one obvious reason why he shouldn't win, and it's this: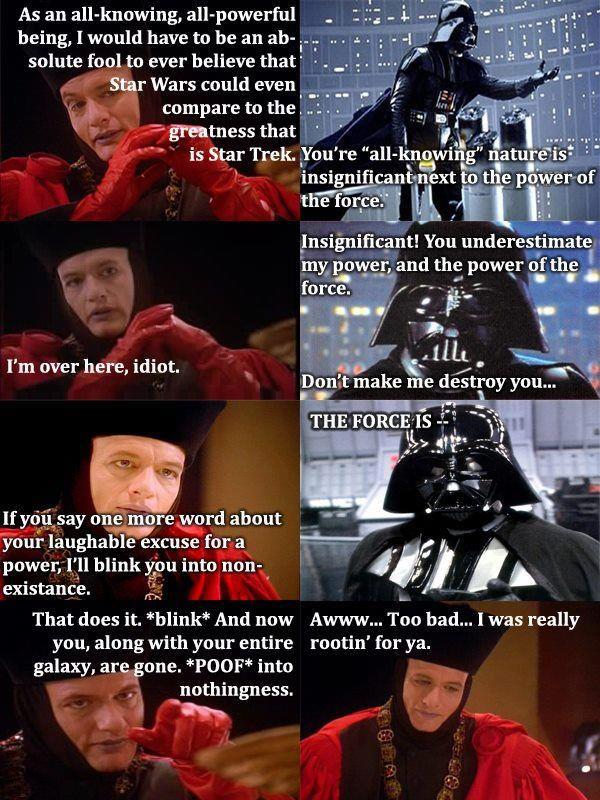 Really, there's nothing more to be said.
Adama vs the 10th Doctor
Yes, Adama is somebody with whom you could chillax. The tenth doctor is quirky and righteous, and indeed is a self-important ass; all of which is part of his charm. He has charisma!
Daleks vs Borg
This one is easy. Universal supremacy cannot be obtained by any race that has problems with stairs, no matter what fancy levitation devices you subsequently upgrade yourself with. Borg all the way.
Spock vs Neo
Neo's only contribution to history was the way he exclaims "Trinity!" in the first movie. And let's not speak of the third movie. Spock on the other hand gave us the mild meld, the Vulcan death grip, "Live Long and Prosper" and a world that understands what "that is illogical" means. There's no contest. Pointy ears for the win!
Picard vs Kirk
I, don't, THINK … there's any real decisiontomakehere. Kirk is wooden and stage-fights badly. Picard is English. That is all you need to know. Vote Picard.
You get the idea. Disagree with me? Duke it out in the comments, and go let your vote be known on the Solarwinds Sci-Fi Bracket Battle site. Voting for round 1 ends this Friday, March 15th, so move quickly!
And Bob… I forgive you. But only because you chose Kaylee over Scotty.
Disclosures
Solarwinds was a paid presenter at Networking Field Day 5, and while I received no compensation for my attendance at this event, my travel, accommodation and meals were paid for by NFD5. I was explicitly not required or obligated to blog, tweet, or otherwise write about or endorse the sponsors, but if I choose to do so I am free to give my honest opinions about the vendors and their products, whether positive or negative.
Please see my Disclosures page for more information.