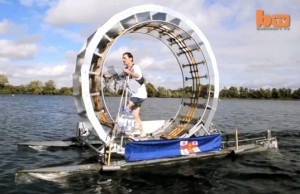 I suspect like many of you, I read with some fascination Matthew Mengel's post on Packet Pushers, entitled "Farewell To Networking." In it, Matthew explains that he won a scholarship to study full time for his PhD in Astronomy and – for three years at least – would be leaving the networking field. The idea of totally changing direction has occurred to me in the past, so seeing somebody actually doing it set my mind spinning.
Then to add to the mix, Teren Bryson posted "Burnout Redux""on his PacketQueue blog, talking about Matthew's post, and his own struggles with feelings of career burnout.
So how do we avoid career burnout? Or should we even try?
Follow Your Passion
Are you in networking because it was always your passion? When we're in school, it seems we're expected to know what we want to do for the rest of our lives. Our class choices at High School, our choice of college and major after that, they're all meant to give us a head start on our future career. And yet at 18 years old, who on earth knows what they're going to want to do for the rest of their lives, assuming the field you end up in even exists at that point? Many of us are lucky enough to be able to invest huge amounts of money in "certifying" ourselves at college, but how many of us are working in a field that's directly related to our Bachelor's degree now? If not does that mean that our passions changed over time? In all likelihood either our major was not really a passion at the time, or our job is not a passion now, or passions change over time as we are exposed to new career opportunities, forced into career opportunities, or maybe build our own new direction.
So if we accept the idea that our passions change over time, how can we truly dedicate ourselves to a career in any one field and stay as motivated after 10 or 20 years as we were when we first entered the field?
How Did You Choose Networking?
I often wonder how people choose careers. I have not been one of those people who has a long term life vision; somebody who from the age of 8 says "I want to be a veterinarian," and ultimately ends up going to veterinary college! For whatever reason, I have not had that vision – or perhaps that early a passion – to know what I want to do. I knew I liked computers and scripting, and have been connecting to other people over the various forms of (lower case i) "internet" since I was at college, back in the days when I connected using an X.25 PAD prompt. My Bachelor's degree was initially in Engineering Acoustics and Vibration, which turned out to be a code word for "Applied Mathematics". It was in fact quite interesting, but I began thinking while I was there that I had no idea what I would do with that degree afterwards. And I may or may not have also spent more time enjoying the social aspects of college than the educational ones, which didn't help either. I had started with some passion for the subject, and still find the "Human Factors" aspect of acoustics intriguing, but it didn't take long to realize that the reality of my degree was likely not where I wanted to end up.
Eventually – with mutual satisfaction – I left that degree course, and took up a role doing statistical analysis and then database administration. I was also then able to complete my degree, this time in Computing, part time. So yes, my Bachelor's degree is in "Computing with Engineering Acoustics" which I like to think is relatively unique. And then I moved into networking. Why? Because a friend said I should join him at his company. I tried to ask him what he did day to day, but what he said didn't make an awful lot of sense to me so it was hard to know whether it was going to be good or not. But it was a pay rise and a company car, so I made the jump and haven't looked back. By chance it turns out I quite enjoy networking and was reasonably good at it. It is my passion? I'll let you know if I ever figure that out.
The Field Changes Too
One thing that's true in the networking field at least, is that the "field" seems to be always on the move. What I'm doing now is, largely, not what I was doing when I got that first networking role somewhere around 1997, although ultimately I guess I'm still moving packets for a job. Software Defined Networking (SDN) is probably the biggest field change I've seen a while, and I talked about what it might mean for network engineers in a couple of previous blog posts here and here. So with a constantly changing field, is it any surprise that what I was passionate about 15 years ago might not exactly be what I'm passionate about now?
In fact, I believe that the speed with which the field changes can be one of the biggest motivators – or demotivators – for the network engineer. If you're on the cutting edge, getting hands on, being fed knowledge or getting the opportunity to develop your own skills in an area, then networking is fun. If you feel like you're standing still and the industry is moving on and leaving you behind, then to me that can be one of the most frustrating situations to be in, and my motivation goes right through the floor because I know once I get behind it may be very difficult to catch up in the future.
As a side note, I try to encourage my children to keep up in core subjects like Math for similar reasons. Even if you hate it you have to keep up because if you don't get those core concepts learned now, Math is going to be almost impossible in the future as you won't have the underlying skills. And if that happens you are going to be frustrated because you don't understand what's going on, which will demotivate you even further, and they'll watch Math spiral down the drain along with their satisfaction. Things that are difficult do not motivate many of us (though some people thrive on challenge).
Burning Out
Am I burned out? Not right now, no; far from it. I'm feeling motivated and happy – I'm finding new things to learn and keep me interested. I feel like I'm playing with some things that are cutting edge – at least they're not commonplace – and that gives me satisfaction. I feel like I'm doing a better job right now of keeping my skills current and relevant.
It has not always been that way though. I've been through periods of time when I have wanted nothing else than to throw the towel in and go greet at Walmart. I've felt on occasion like I'm stuck in a rut and not progressing. I have felt like I was burned out and done with networking. Looking back on it, I think I've felt that way periodically since I started in the industry, and so far those feelings have gone away eventually. So how can I avoid becoming burned out?
Fan the Flame
One way to avoid feeling burned out and bored is to 'fan the flame'. Personally I need an injection of inspiration and motivation once in a while. I've found that one source of the good stuff that breathes air into my networking flame is to get some really good training and information; the kind of thing that gets me back into the game and feeling "current". In the last few years, that has manifested in two main outlets:
Cisco Live. Cisco Live is an expensive jug of Kool Aid, but for me it's like recharging my batteries. I come out of Cisco Live feeling motivated, excited about our industry, pumped up by the social aspects (like meeting so many of the great Twitter users I follow), and looking forward to doing something with what I learned. I also look for areas where I can take the knowledge I got and share some of it with other people who weren't able to attend, so that perhaps they get a little bit of inspiration too.
Tech Field Day. I've been fortunate to attend Networking Field Day (NFD) 4 and NFD5 as well as the Cisco ACI launch in New York City. I've been invited to attend NFD7 in February 2014 as well (I'll post more on that soon). I cannot overstate how amazing these events are, and cannot encourage people enough to consider applying to attend. They're only three days long, but are so packed with information and the latest news from a variety of vendors, you can't help but leave exhausted and giddy about what's going on in the industry. I've also made some amazing contacts there, both at the vendors and of fellow attendees, and they have totally enriched my social interactions and my outlook on the industry.
So not everybody can do those two things. Let me add another thing then:
Blogging. This is a bit of a vicious circle because I need to be motivated to blog in the first place, but when I put a post out there that gets good feedback, retweets, blog responses, comments, maybe vendors re-posting the link too, it's a great feeling. I am not a blog statistics addict, but seeing a spike in traffic because a blog post evidently hit the spot is a huge endorphin rush. Sad, isn't it? Blogging is free (or at least, it can be), and anybody can do it; I'd wager that everybody has something they can share because there's always somebody who can learn from what you know in the same way you learned from other people earlier in your career.
Fire Extinguishers
You probably know what demotivates you; a bad manager, a bad commute, or perhaps you just realize that there's something else in your life that you enjoy more. If you made that other thing – perhaps a current hobby – into your daily work, would you enjoy it as much? I hear two attitudes on that:
"To do what I love and get paid for it is just a dream!"
"I loved it as a hobby but now it's my job and I have to do it, all the pleasure has been sucked out of it for me."
Only you know what will work for you. If you have the opportunity, the desire, and the will to change path or take a break from what you currently do, then I bow to you because I'm not sure I have that same courage. If you do follow your passion to another path, I wish you good fortune and much happiness! On the other hand, if you're restless but choose to stay doing what you're doing, just remember that things can change and perhaps you too will cycle between feeling burned out and in a rut, to being inspired and happy again. Perhaps you can find a way to fan that flame for yourself and accelerate the process.
And remember, the guy pictured in the big hamster wheel at the start of this post? Far from going nowhere, on his first attempt to cross between Wales and Ireland, he made it 33 miles before the sea got too rough to continue. What did he do then? Planned his second attempt, that's what.